Hi, My name is Liz (Elle). Welcome to my shop. I am a one woman show: owner, designer, creator, business manager and handy woman behind elle & belle jewelry. I don't usually introduce myself but I always like to hear other makers' stories so here goes. 
After studying jewelry design, my daughter originally created 'elle & belle' which is named after me and my mother, Isabel. My mother loved and collected jewelry so it is fitting that my daughter paid tribute to her grandmother in this way.
Inspired by the strength and courage of the children and the compassionate staff at the Hospital for Sick Children near her workplace, my daughter started a Hearts for Sick Kids campaign as part of 'elle & belle', donating $5.00 each from her best selling necklace to SickKids Foundation in Toronto, Canada. Before she moved to New York City, she taught me how to make her signature heart necklaces and I have since put my own spin on the elle & belle collection with 'elle & belle jewelry'. Some of my expanded collection of beads and favorite chain jewelry can be seen below. We thank all of you who have purchased our heart necklaces and made our past donations possible.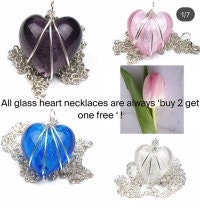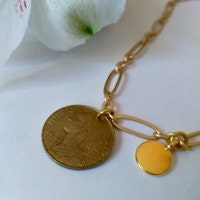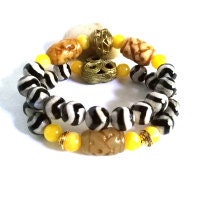 These are just a few of my recent creations. Many more at www.elleandbellejewelry.com       
 I have undertaken other creative endeavors such as: pottery making, sewing, knitting and now I love the proud satisfaction that comes from being an artisan of handmade jewelry. I am basically self-taught but have taken some beading and metal work classes. I have experimented with a number of mediums and continue to refine my techniques. Mostly, I get my inspiration from the form and movement of textile materials, metal accents and beads that catch my attention.
I strive to create jewelry that I am proud to wear myself and hope that anyone wearing one of my pieces feels happy and special. My customers are very important to me. If you see something in my shop you would like customized please ask. I will try my best to accommodate!
When you give a gift from elle & belle jewelry or treat yourself you are supporting a small business and receiving a unique item handmade with care.
If you would like to tell me a little about youself please comment below and/or also if you have any  suggestions for future blog posts.
Liz (aka Elle)
www.elleandbellejewelry.etsy.com
www.pinterest.ca/elleandbellejewelry/
www.instagram.com/elleforsterjewelry/